Tuesday, October 27, 2015
WizeOne Out of Amman
========================
We are having a great guest this post,Wessam Shadid doing amazing works on Arabic Graffiti in Jordon.You might like to see more of this talented writer please
click here
Labels: Amman, arabic graffiti, Jordon, middle east graffiti, Wessam shadid, Wiseone
Monday, June 8, 2015
Videos by MOCA on Street Art in The MiddleEast
========================
Up til now we have seen lots of graffiti from Iran ,Malaysia ,etc. here in my blog.Meanwhile the Arabic Spring, by the influence and protection of the Media & the western academics,Arabic Graffiti is experiencing a Boom.One can keep in mind the graffiti workshops by German Graffiti writer and publisher (Don Karl Stone) in 2009 to 2011 was an injection of Graffiti into the Arab world ,from that he made books called : Arabic Graffiti and Walls of Freedom.(Don Stone also made the same in in Cuba 2006 , producing a DVD for sale out of that project too).
Here you see some Videos made by MoCA explaining about graffiti in 4 Countries with Graffiti .
The first of 4 is Lebanon with Graffiti cult starting around 2006.
Labels: aerosol arabic, american, Arabic, ashkeman, Boksmati, don stone, el seed, From Here to Fame, ganzeer, lebanon, middle east graffiti, middleeast spray can art, Pascal zoghbi
Friday, March 13, 2015
New pieces & New writers in the Middle east
========================
Jeddah
by Ali rafei
ASHEKMAN
Here you also see some pieces from the first Meeting of Styles in Middle east -2015 Jeddah
Some Works about Islamic State and the recent news by Middleeastern Artists
By A1one from Iran
By Ali Rafei in Beirut


Labels: aerosol arabic, Arabic, arabic graffiti, artist, Ashekman, beirut graffiti, calligraffiti, dubai, egypt, el seed, event, graffiti, IRAN
Sunday, January 4, 2015
DeeVaar - An insider Documentary film about Iranian Graffiti and Street art
========================
Deevaar, documentary by KolahStudio is Finally ready... it will be on screening in Germany in some academic venues now.
...With the development of Graffiti and Street-Art in Iran and gradually in the Middle Eastern countries during the last decade and with the growth of the Street Art Market on the one hand and the awareness of the Iranian government of this Phenomenon on the other hand , which caused some life threatening problems for Me and some close friends of mine, I thought to make a video documentary about us.
For more info and the Trailer please check this link :
Deevaar -Graffiti in Iran




Deevaar is an Iranian Insider Graffiti Documentary aiming to show the real prospective of what the graffiti scene in Iran is like. What the Artists and graffiti kids think about themselves and what they are doing and how they are being recognized from outside. The shooting of the footages for this film started in 2009 ,although you may still see some of the older footages in this Video.
Labels: Arabic, Article, Iran streetart, Irangraffiti, karaj, middleeast spray can art, Persian, shiraz, tabriz, tabriz city, tehran
Wednesday, December 3, 2014
Ghalamdar New calligraffitis From Iran
========================
Ghalamdar
is an Iranian street artist who practices a combination of graffiti and traditional lettering on walls. He is inspired by endemic calligraphic styles and miniature paintings (negargari) that have been the primary subjects of 20th century modernist art. Ghalamdar began his graffiti career in 2009, coming into contact with local artists and their works. From 2011 to 2014, he teamed up with the Elf Crew, one of the first groups of graffiti to operate in Iran since late 2006. Ghalamdar's distinctive style has been featured as part of their collective, accompanying the pictorial features of Blind and Ali Fj-one with Persian-inspired calligraphy. Ghalamdar's work is very influenced by
A1one
who is a pioneer in Iranian graffiti scene ,but still alot to mention as an original outcome.
Labels: calligraffiti, elf, Ghalamdar, Iran streetart, Irangraffiti, karaj
Thursday, October 23, 2014
Deevaar : Documentary about Iranian Graffiti Movement
========================
DeeVaar Is a Movie made by
Kolahstudio
about the first Ten years of Graffiti movement in IRAN.We have found a short demo video From this Documentary. Being a Independant Studio being banned and imprisoned by Iranian Security police ,Kolahstudio could not publish the video yet.This Video is Made in 5 years By a Large Collection of Videos recorded By Iranian Original and Most notorious graffiti artists in The Streets. Talking about The hopes ,Fears and Aims plus different viewpoints of the Older and younger Writers and Street Artists in the Country of IRAN. The Documentary is Written and Directed by Karan Reshad with interviews with Artists and Writers : Edrak,Magoi,Khamoosh,DejCr­ew,Tajassom,IcyandSot,Frz,Nafir,Goriz,PST,Negative,Ger­ekoor,Keloz,Salome,ElfCrew, Ghalamdaar and more .Produced at Kolahstudio - Tehran
Labels: IRAN, Iran streetart, Irangraffiti, isfahan, karaj, mashhad, middle east graffiti, shiraz, streetart, tabriz, tehran
Friday, July 18, 2014
More Arabic Graffiti
========================
Ashekman - Graffiti - Beirut
Tshirt Design- Ashekman - Beirut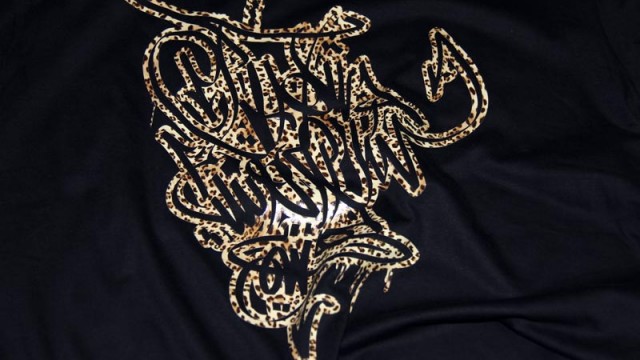 Rumi Poetry Tshirt Design - A1one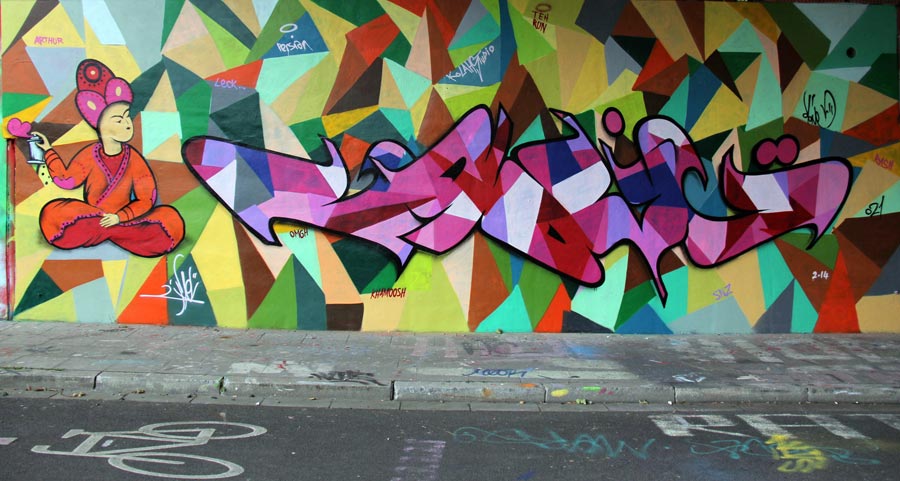 Persian Graffiti by A1one









Labels: a1one, Arabic, artist, Ashekman, Persian, Tshirt, Yazan
Saturday, November 2, 2013
The Paris Tour 13
========================
The Tower 13 - 100 local and international artists coming from Street Art & Graffiti involved in a huge project in Paris .
Front view of the Tower 13 in Paris
WallArt by A1one at the Tower 13 Paris
WallArt by ElSeed at the Tower 13 Paris
WallArt by Shoof at the Tower 13 Paris
Labels: a1one, arabic graffiti, el seed, gallery, graffiti, middle east graffiti
Tuesday, May 7, 2013
Some More Calligraffiti from Middle east
========================
Arabic Graffiti by A1one From IRAN
Iranian Street Artist - A1one Stencil art
Persian Calligraffiti Handstyle Piece
Calligraphy Pieces on Canvas
You can check some
more Arabic Graffiti by A1one
Labels: a1one, arabic graffiti, IRAN, middle east streetart
Thursday, January 10, 2013
From the Arabic Graffiti King - Two New Videos
========================
A1one from Iran - known as the GodFather of Middle East Graffiti -Has been held in prison by Iranian intelligence civil Service and After his release he Flight to Germany and Resided there for his safety.
This man is a Great Story of a Real rebel with a super kind heart and strongly radical lifestyle which brought him through lots of troubles in a traditional society in Mid-east. I am really a big Fan of this guy.take a look at his works here:
A1one Diary in Dusseldorf
from
KolahStudio
on
Vimeo
.
and here:
DEDICATED to A1ONE aka Tanha
from
dedicatedstorecologne
on
Vimeo
.
Labels: a1one, arabic graffiti, artist, IRAN, middle east, middle east graffiti, middle east streetart, tehran
Thursday, December 6, 2012
A1one Pieces in Germany
========================
We just heard That our homie,A1one ,left IRAN and is Currently living in Germany.We are very sorry to hear about his Prison Story in IRAN and we hope he get better and better soon.
A1one 3d Render
Arabic Calligraphy sculpture design - A1one
www.a1one.info
Tuesday, September 11, 2012
Graffiti on Minaret
========================
"'Madinati' is a new video about my last Calligraffiti on Jara Mosque in my hometown, Gabes. Enjoy and if you like it, share it. We put our hearts into it!" - EL SEED
Saturday, March 24, 2012
Bahrain: Guinness World Record
========================
Bahrain: Guinness World Record arrived in the Kingdom of Bahrain for the 24, 716 square feet of 3D anamorphic painting, conceived by the New Horizon School (NHS) in association with 3D artist Limnesh Augustine. The previous record of 12505.52 square feet held by 3D Joe and Max was surpassed by the team on February 12, 2012 at the NHS Carnival hosted by the Parent Teacher Association. The Guinness World Record (GWR) office in UK verified and certified the attempt as the new world record on March 16, 2012.
It took 120 artists, 50 volunteers and their combined efforts lasting four hours to complete the record breaking 3D canvas with perfection. The artwork has been titled 'Piece 4 Peace' and conveys the message: "Every drop makes the ocean; similarly various elements and various corners formulate peace, which is the desire of every individual and nation. Piece 4 Peace is the representation of the reality and awareness that when various pieces from the four corners are brought together in harmony, then it will for sure, give birth to peace."
Monday, October 17, 2011
Spray 2011 : Iranian Graffiti Jam in Tehran
========================
Kolahstudio in IRAN has just made a big event Hosted By Adrenaline -A modern Water Sports Club in South of Tehran.Spray 2011 was A Big noise , a new begining for the graffiti in IRAN. a new horizon of hope.
You can see more photos and get more information at
www.kolahstudio.com/spray2011
Monday, September 5, 2011
A very nice Mural by Aerosolarabic in Bristol
========================
Be The Change You Want To See from DARCUS CLARKE on Vimeo.
Labels: aerosol arabic, mohammad ali
Saturday, July 23, 2011
Street Art - Street Life
========================
KolahStudio in IRAN published a Call For Artists for their upcoming PDF Issue ...
Check by yourself
http://www.kolahstudio.com/underground/?p=979
Labels: call for art, IRAN
Friday, July 22, 2011
Goo Interviews Ganzeer From Egypt
========================
GOO:Would you please talk a little bit about your self?Where Do you live and work? and how often are you working?
Labels: egypt, ganzeer, interview
Thursday, May 5, 2011
Deform Industry Peace In Dubai
========================
photo © FRES
By Deformindustry :
deformindustry.blogspot.com
Labels: dubai, United Arab Emirates